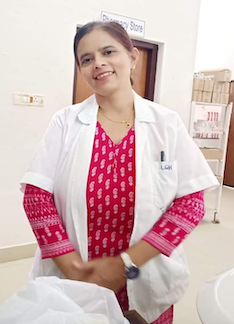 Sitala Devi Sharma (above) is the pharmacist at Lalgadh Leprosy Hospital. She has lived on the hospital campus, with her family for the last 25 years. Three members of her family work in the hospital.
'My responsibility is to manage the supply of essential medicines and to distribute medicines to the patients. Lockdown has made me even more sensitive, busy and responsible. Before the lockdown, 500 to 600 patients used to come daily. Nowadays, only about 30 to 40 people come … Some patients come on foot, some by bicycles, some by motor bikes, some even come by reserving an ambulance …It has become very difficult for the poor. Thankfully, the hospital provides free services and medicines to the poor, the disabled, the handicapped, the leprosy patients and the affected people.'
We wish all wonderful caring staff at Lalgadh Hospital continued good health as they take care of themselves and their patients during this difficult time.